Vacations on Koh Lanta are often combined with a visit to the nearby Railay Beach, or a stay in the tourist town of Ao Nang. It's not surprising, as the distance between these popular resorts in the province of Krabi is just about 50 km by sea, or just 90 km by land. The best and most convenient way to Get from Koh Lanta to Ao Nang or Railay is by ferry. In this article I will tell you how to buy ferry tickets with a transfer from your hotel, how much the tickets will cost, and which form of transportation is best during low season, when there is no ferry service.
This article index:
From Koh Lanta Island to Ao Nang and Railay by ferry
Ferry ticket price from Koh Lanta to Ao Nang or to Raleigh Beach:
550 baht (~18$) per adult passenger or child over 12 years old,
400 baht (~13$) for a child from 3 to 12 years,
free for children under 3 years old.
The departure time of the ferry from Koh Lanta to Ao Nang and to Railay Beach is 1:30 pm daily from November 1 to April 30.
The pier from which the ferries depart is called Saladan (Saladan Pier), and it is located at the northern end of Koh Lanta island.
Ferry tickets can be bought online:
If you buy the ferry ticket correctly, the ticket will include a transfer from the hotel to Koh Lanta to the pier. That, undoubtedly, is very convenient. You will find detailed instructions for buying tickets for the ferry in this article.
Transfer is available from hotels that are located on the following beaches of the west coast of Koh Lanta (beaches are listed from south to north):
Map of hotels and beaches of Koh Lanta:
If you are wondering how to get to the hotel from the pier in Ao Nang, then I can help you. The cost of a ferry ticket includes a transfer from the pier to hotels in the following locations:
The procedure for organizing a transfers from the pier in Ao Nang to hotels is as follows:
During a trip on a ferry, an employee of a transportation company boards the ferry and asks passengers what hotel they need a transfer for.
Upon arrival in Ao Nang, ferry passengers are transferred to minibuses and transported to their hotels..
A trip by ferry is a comfortable and interesting journey. The ferry has an area with seating and air conditioning as well as an open deck for those who want to sunbathe and enjoy the beauty of the sea.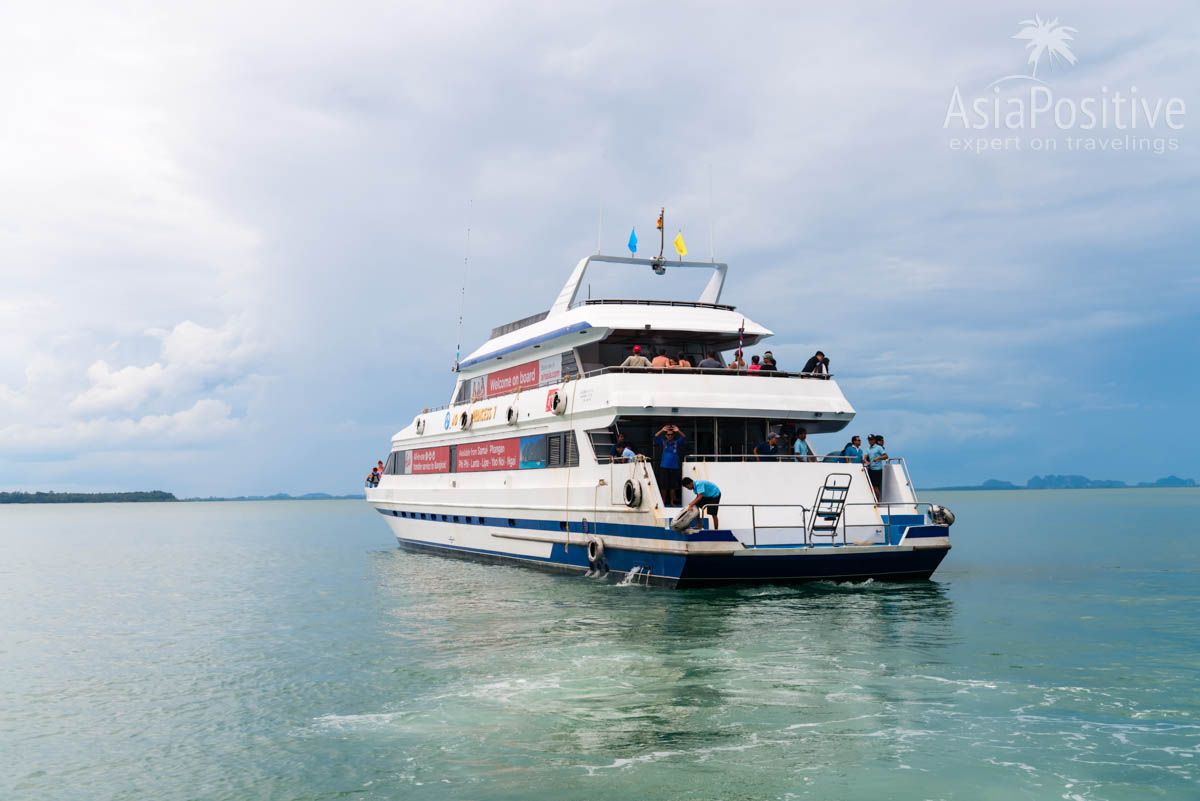 Instruction how to buy a ferry ticket with a transfer from the hotel to Koh Lanta
1. Click on the appropriate link:
2. Select the number of passengers and date of travel, click "Check availability".

3. Choose the correct option with transfer from your hotel to the pier on Koh Lanta (Ferry Ticket + Hotel Transfer).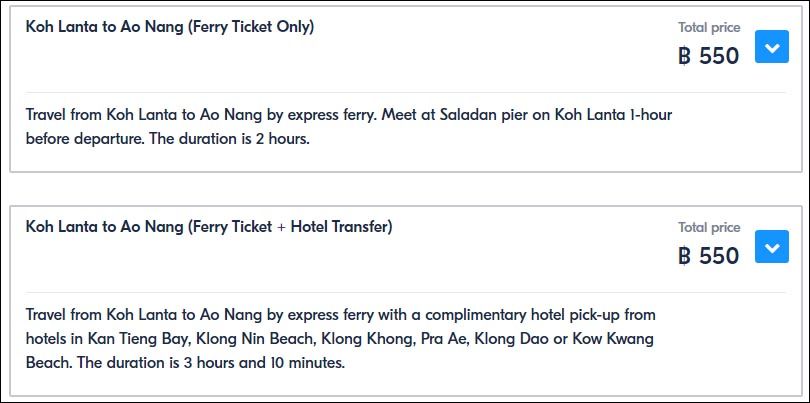 4. In the next window, check whether everything is correct and click "Checkout".
If needed, you can still edit your order. Simply click on the link "Edit".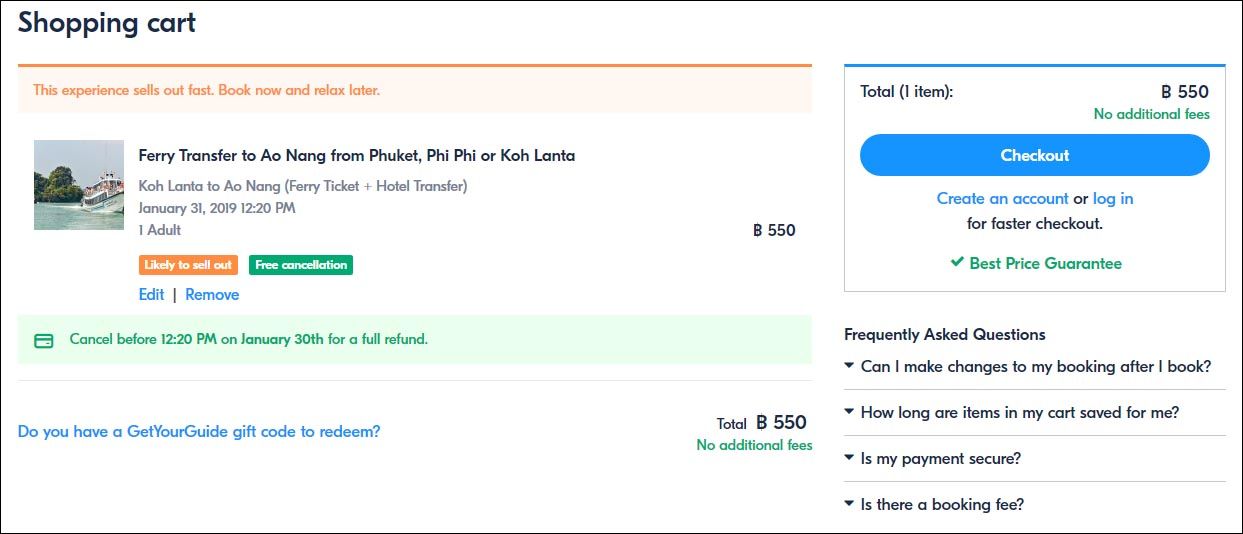 5. In the last window, you have to enter your contact information and the name of your hotel for transfer, and pay for the ticket by a bank card.
It is not necessary to print a ticket. You can just show it on your mobile phone's screen.
How to get from Koh Lanta to Ao Nang if there is no ferry
Ferries run from November 1 to April 30. During the low season, you can reach Ao Nang from Koh Lanta by minibus, taxi or rental car.
If you plan to travel around Krabi a lot, then you should rent a car immediately upon arrival at Krabi airport (car for rent from 22$ per day).
The cost of a taxi (private transfer) from a hotel to Koh Lanta to a hotel in Ao Nang starts around $85 per car. The trip will take about 3 hours. It is convenient to order a transfer on the 12Go Asia website.
The cheapest way to get from Koh Lanta to Ao Nang is tourist minibuses for 540 baht (~ $ 17) per person. The duration of the trip is at least 4 hours. Typically, tourist buses call in to some office and wait for the managers to work with the passengers. They will sell them tours or hotels, or at least a couple of packages of chips with a margin of 150%. My experience has shown that a minibus ride is actually about 6.5 hours. Tickets for the minibus from Koh Lanta to Ao Nang can be bought on the 12Go Asia website.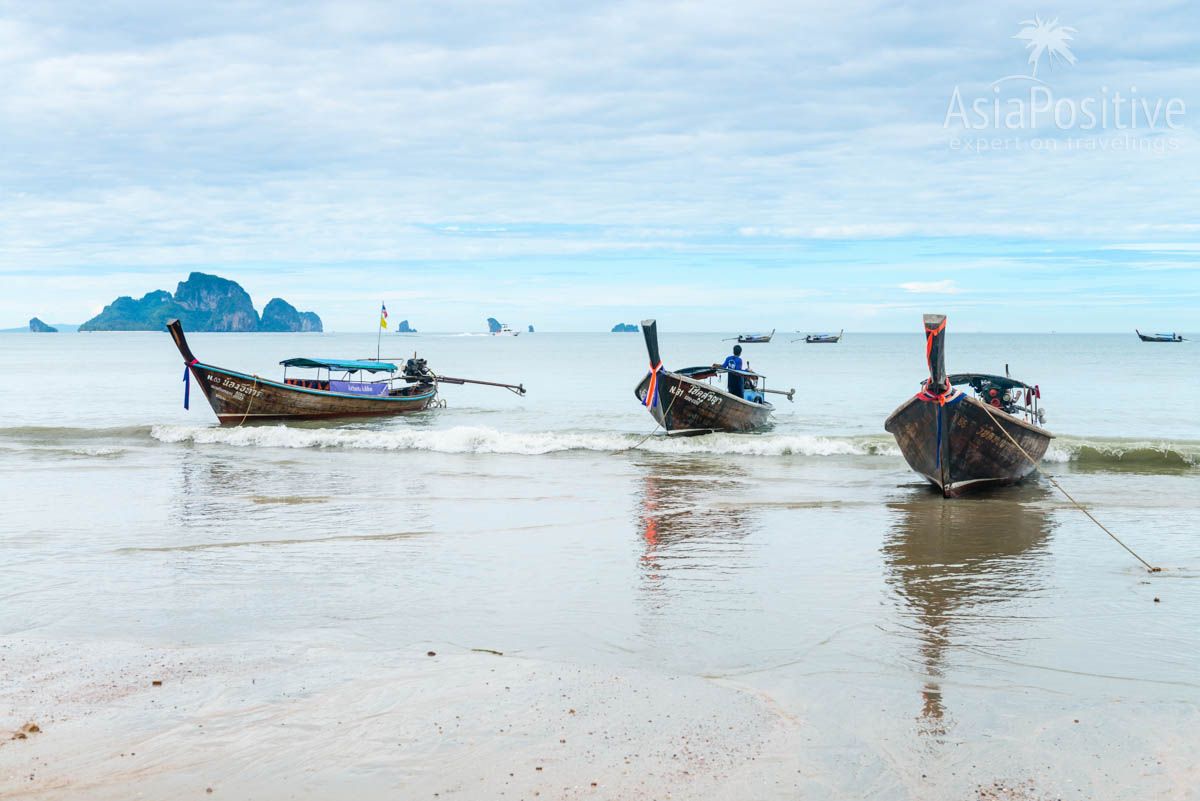 How to get to Koh Lanta from Railay (not by ferry)
First you need to take a taxi or minibus to the quay of Ao Nang, from which wooden boats depart to the Railay peninsula:
from 8 am to 6 pm - 100 baht per person,
from 6 pm to 12 am - 150 baht per person.
Usually the boatman will wait for at least 6 passengers in the boat before departing.
In any case, you should keep in mind that you will have to wade into the water in order to board the boat. So dress appropriately and chose practical shoes for the trip (do not wear a long dress or your favorite pants).
Summary table with all types of transport from Koh Lanta to Ao Nang and Railay
| Type of transport | Time in way | Cost / price | Order / buy |
| --- | --- | --- | --- |
| Ferry | 1,5 hour | 550 baht/pax | |
| Transfer (taxi) | 3 hours | от 2800 baht/car | order |
| Rented car | 3 hours | от 710 baht/day | choose a car |
| Minivan | > 4 hours | 540 baht/pax | buy a ticket |
Useful links to save your time and money:
Useful links to save your time and money:
You may also like to read:
Do you like this article? Share it or save for later:
---
Map with hotels in Ao Nang and Railay:
---