The vast majority of cafes, restaurants and hotels in Thailand will provide you with WiFi Internet access. But some hotels will ask you to pay for it, sometimes a lot. A local phone number is useful for ordering a taxi, contacting a hotel or a guide. It is reliable to buy a SIM card with unlimited mobile data and calls from a local mobile operator. In this article you will learn how to connect to the Internet, how to buy a SIM card and how to top up an account in order to use your unlimited mobile Internet in Thailand.
Mobile data in Thailand for Internet and social media connection
If you want to be constantly in touch, and have round-the-clock access to messengers, your mailbox and social networks, then you should buy a SIM card with Internet service. In Thailand it is very easy to do. Prepaid starter packs from Thai mobile operators are being sold in:
special kiosks at airports,
mobile operators shops in big shopping malls and near some tourist attractions,
7 Eleven and Family Mart convenience stores, which can be found literally on every corner.
Tourist SIM Card eSim Card Pocked 4G WiFi device with Unlimited Data
You can save your money to buy a Tourist SIM card with discount on Klook website.
Three of Thailand's largest mobile operators, DTac, TrueMove and AIS, have good coverage, high-speed mobile Internet and special starter packages for tourists. Service quality differs only slightly, so it's not worth running around in search of the best deal. You're better off spending your time on the beach.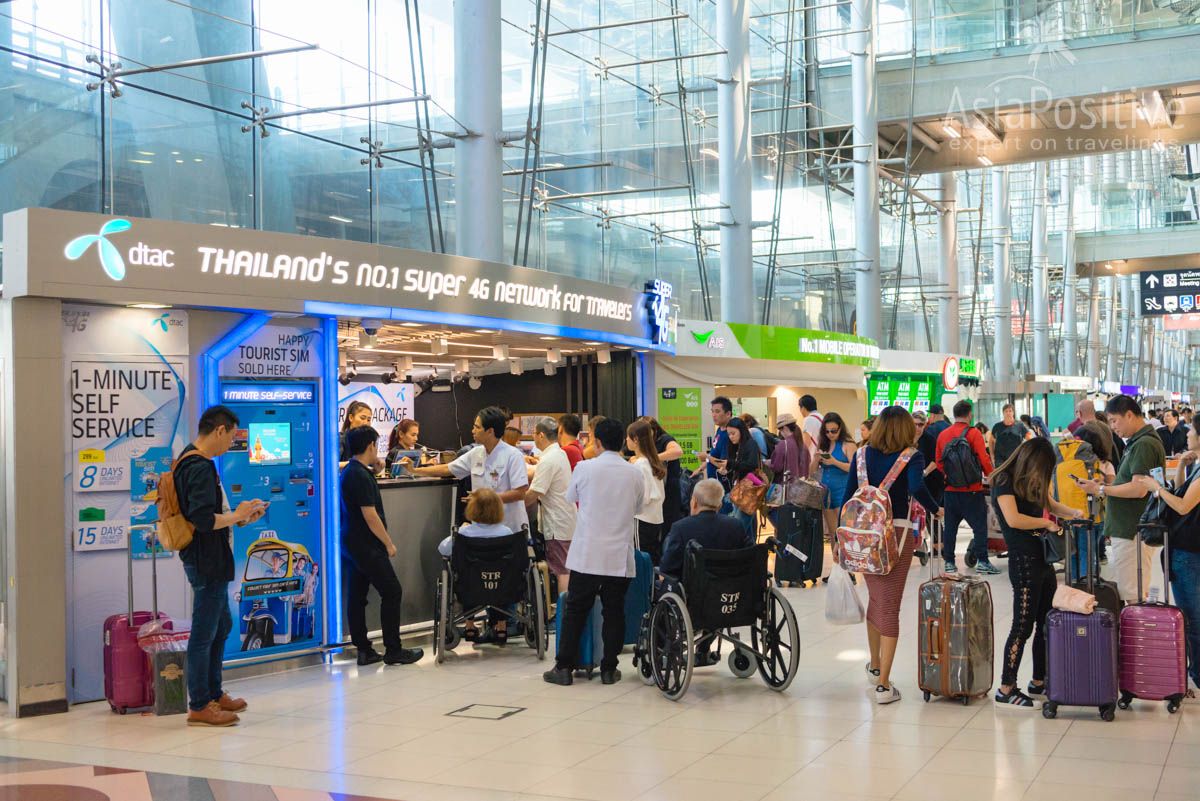 How to buy a SIM card for Internet Service in Thailand
You can buy a SIM card with unlimited internet on arrival in Thailand. There are kiosks of mobile operators at the biggest international airport in Thailand. But it is honestly possible to get stuck in the queue or find a shop closed for lunch.
It is much more convenient to order a SIM card while sitting and relaxing at your computer at home, with no rush, all the while, taking advantage of a great discount on the Klook website (by the way, you can find there a lot of discounted tour and entrance tickets).
Order your SIM card online, and you can pick it in the airport:
SIM cards can also be bought in 7 Eleven and Family Mart stores, but for this you will need to master the SIM card activation yourself (not all sellers of these stores are able to help you with this).
How to get unlimited mobile Internet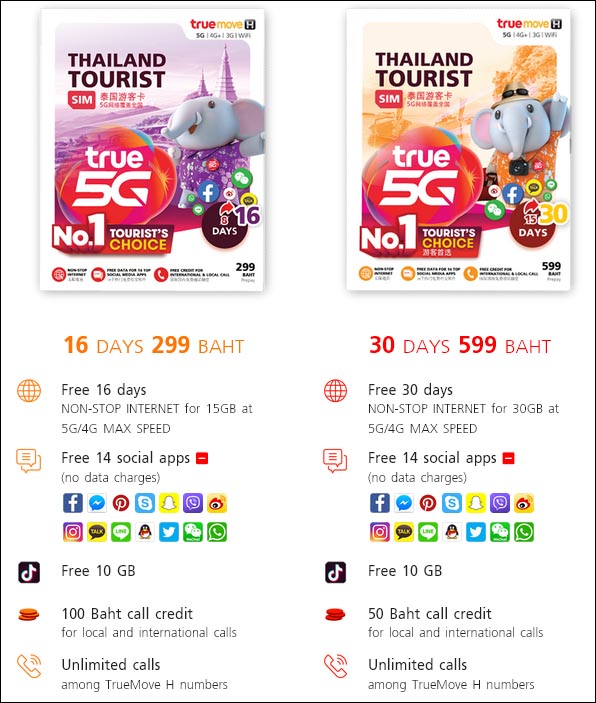 I want to clarify that "unlimited internet" is terminology used by Thai mobile operators to describe a tourist starter pack, like the one above, with a TrueMove SIM card (other operators have about the same thing, but in a different package).
The most popular package TrueMove Tourist Sim for 16 days offers:
High-speed Super 4G/5G Internet (maximum speed reaches 100 Mbps),
100 baht for calls,
free mobile data for 14 social apps,
cheap international calls (you need to call via code 00600),
free calls to TrueMove numbers with the (if you buy several starter packages, you can call each other for free),
"unlimited internet" for 16 days - the first 15Gb (gigabyte) is included in the package.
In the long run, it turns out that, while your internet is technically unlimited, it is limited to gigabytes.
For the majority of tourists, 15GB is more than enough for the entire 16 days.
If you like to download movies in high quality, then you may need additional gigabytes and they can be very easily purchased. Please read further to get details.
How to extend your mobile data package for Internet connection
What happens when the 16 days or 15GB specified in the start package end?
To check the balance on the tourist SIM card TrueMove, you need to dial *123# and press the call.
The SIM card will continue to work, you will still be able to use the Internet, but extra data will be charged at 1.5 Baht/MB until you have money in the account or until you buy another package with internet service.
You can use code *900*1756# (dial the code and press the call) to subscribe to additional 3GB Internet with max 4G speed for 8 days 150 Baht.
To get this extension or purchase additional gigabytes of mobile data for Internet connection, you first must top up your mobile number account.
How to top up your mobile number account
You can top up your account in any 7 Eleven, Family Mart or TrueMove shop:
To improve understanding with store employees, write down on paper the phone number of your Thai SIM card and the name of the mobile operator (TrueMove). You can find out your number by dialling the code *833#.
Tell staff your top up amount whether for 20 Baht / 50 Baht / 100 Baht / 300 Baht.
Tell staff your phone number.
You can also top up your mobile number account in small self-service machine, which are located near the entrance to 7 Eleven and Family Mart stores, or online on the mobile operator website - https://iservice.true.th/prepaid-top-up.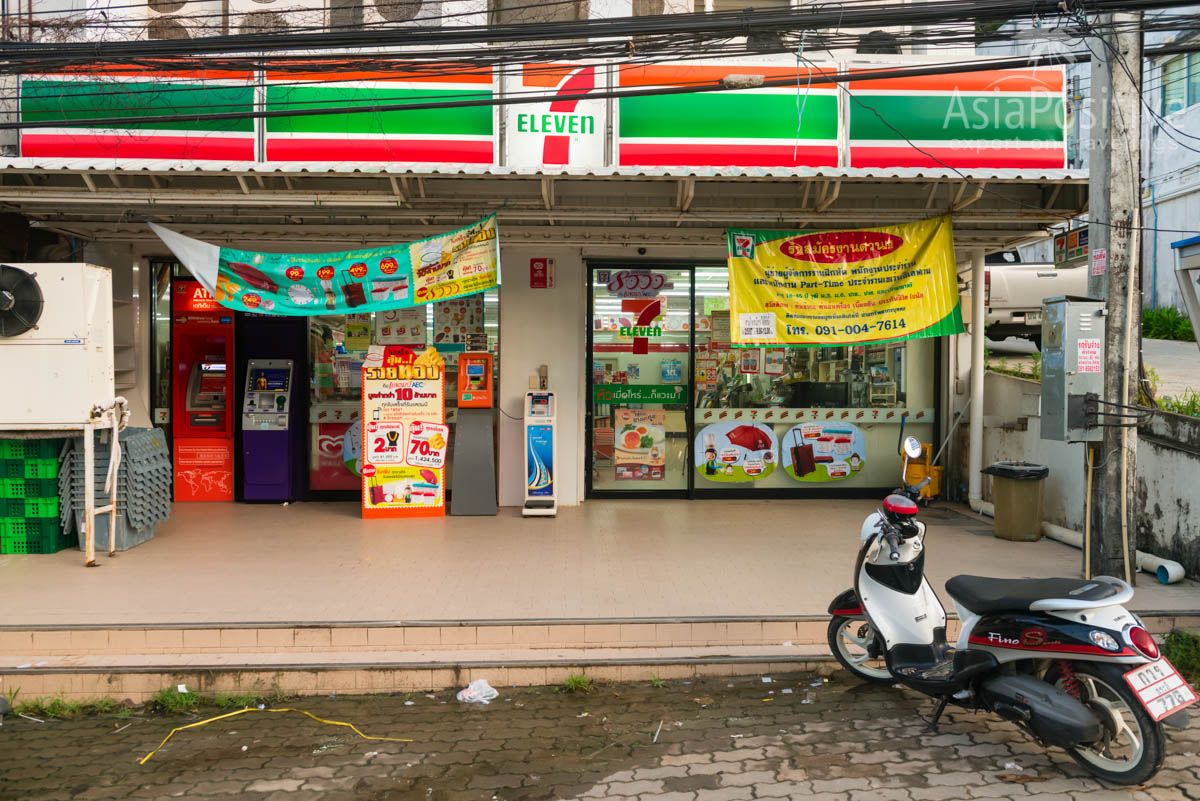 Options for those who do not want to change their phones' SIM cards
If you do not want to replace the SIM card in your phone, but you still want to use unlimited Thai internet service without turning off your "home" phone number:
How to book a hotel with free wi-fi connection to Internet in a room
Having to pay for Internet at your hotel, or not having it at all, is almost always an unpleasant experience. To avoid this is easy - when booking a hotel, use the "Free Wi-Fi in rooms" filter and choose from hotels that provide their guests with free access Internet access.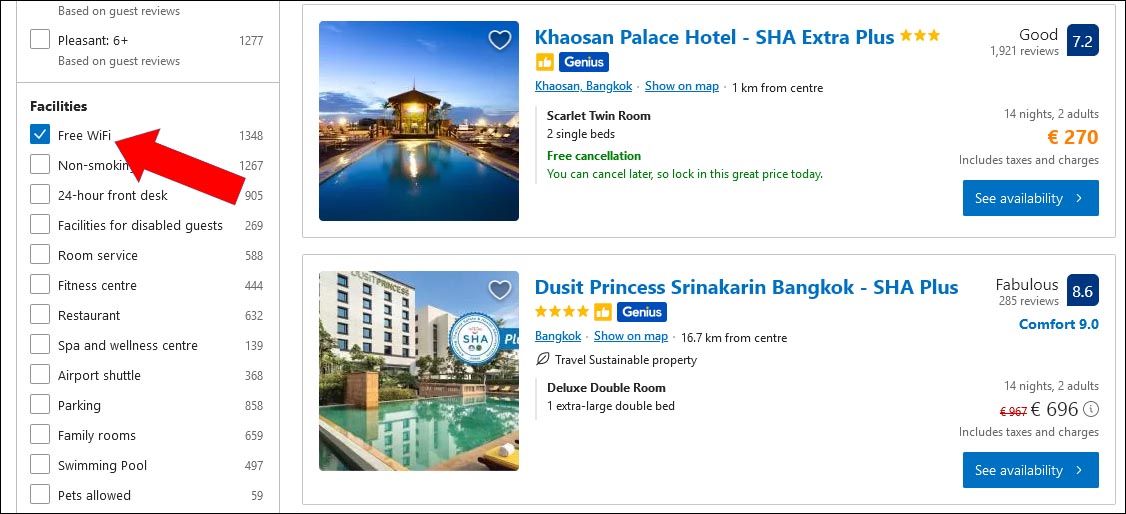 Travel tips for Thailand: you can safe you money on hotels - try to check room rate on booking.com, agoda.com and compare price on hotelscombined.com.