A grandiose event is scheduled for April 5 - 7, 2019 in Istanbul - the transfer of all flight operations from the soon-to-be-closed Ataturk International Airport to the brand new Istanbul Airport. This article will help you to deal with all three of the international airports in Istanbul. It will help you to understand where they are on the map, to know at which airport your plane will arrive, and to learn the when and how of the transfer of operations from Atatürk Airport to the new Istanbul Airport.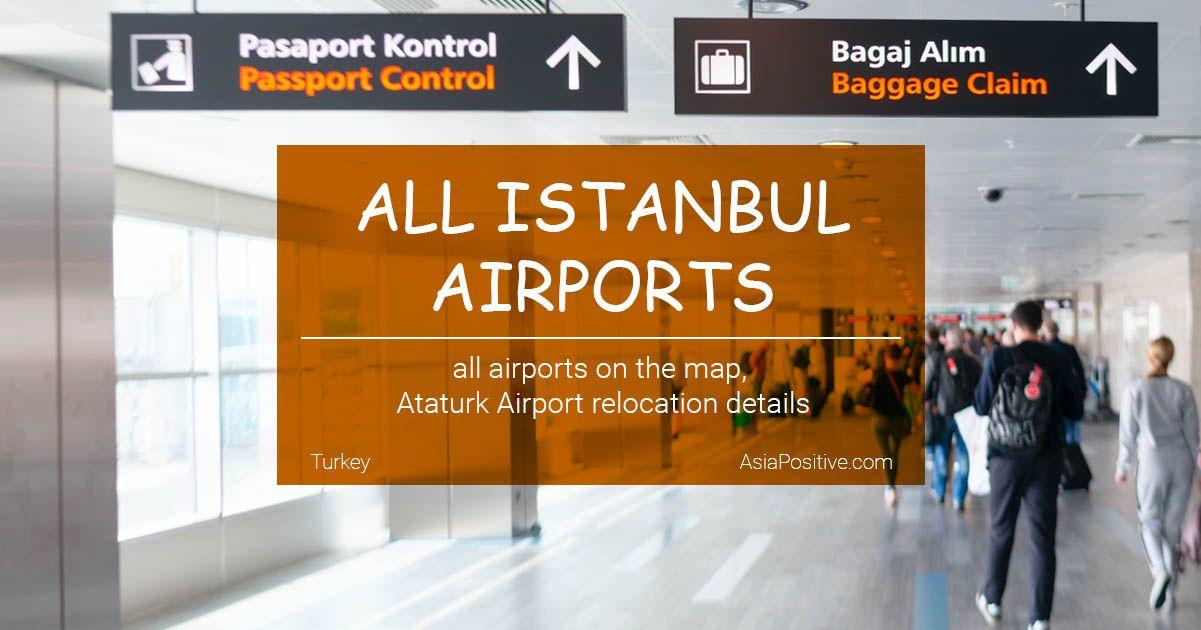 All Istanbul airports on the map
Ataturk International Airport is located within the city and it was very easy and quick to get to the historic city center by public transport.
The Sabiha Gokcen Airport is located on the Asian side of Istanbul. In the not-too-distant future, it will be accessible by metro line. In the meantime, however, Sabiha Gonchen Airport can be reached by bus or taxi (you can order a taxi / transfer here).
New Istanbul Airport, for those who have managed to visit it, can only be described as "huge." It was built on a grand scale, targeting the title of the largest airport in the world. It is located approximately 40 km from the historical center of Istanbul. Metro rail acess to the new Istanbul Airport is promised to be completed somewhere between the end of 2020 and the beginning of 2021. At the moment, however, you can only reach the new Istanbul AIrport by bus or taxi (you can order a taxi / transfer on this website).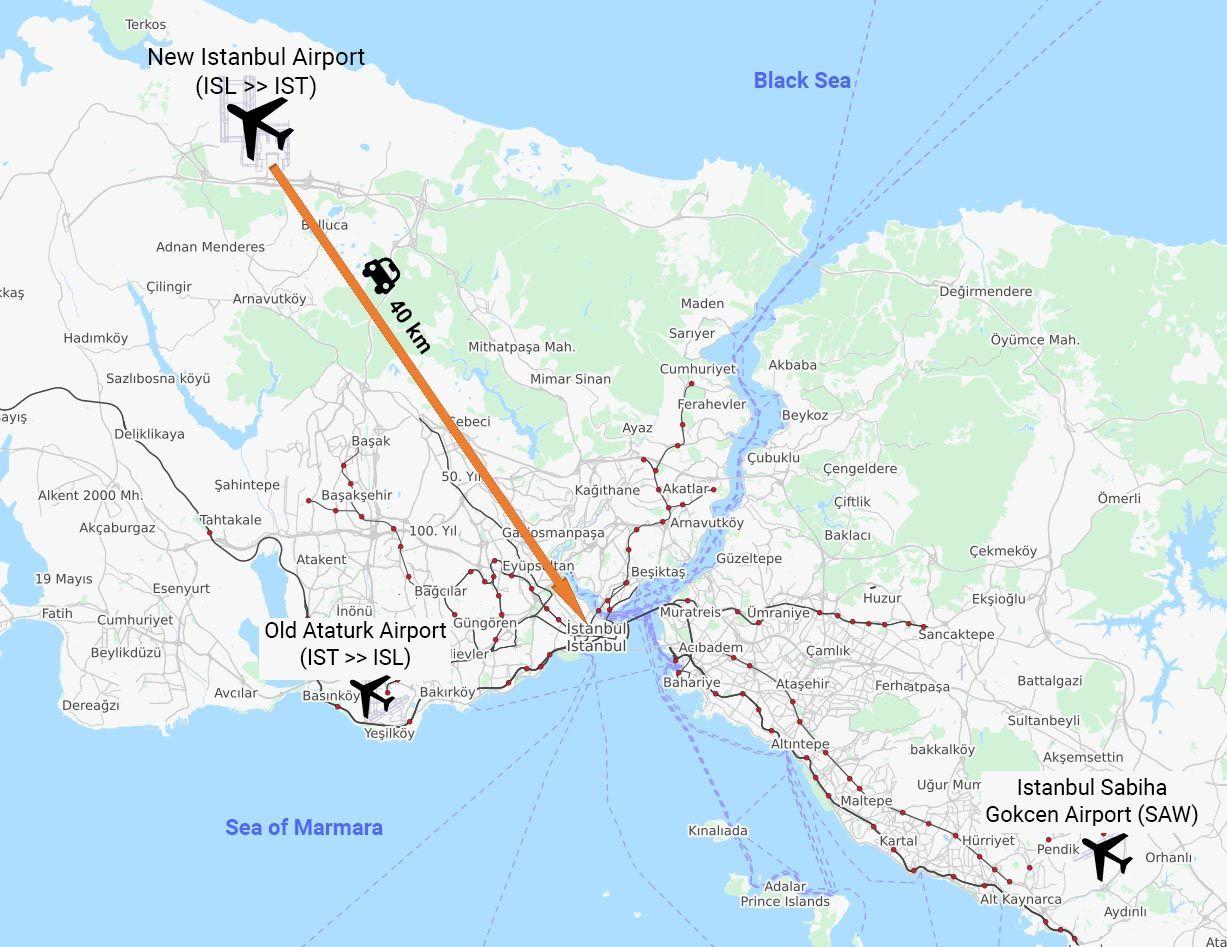 How many airports are in Istanbul
From October 2018 to April 2019, there have been three international airports operating simultaneously in Istanbul:
The New Istanbul Airport (until April 2019 IATA ISL code) was opened in October 2018.
Ataturk Airport (IST code IST until April 2019) will be closed in April 2019.
Sabiha Gokcen Airport (IATA code SAW), which is mainly flown by low-cost airlines.
From 5 to 7 April 2019 Ataturk Airport operations will move to the New Istanbul Airport.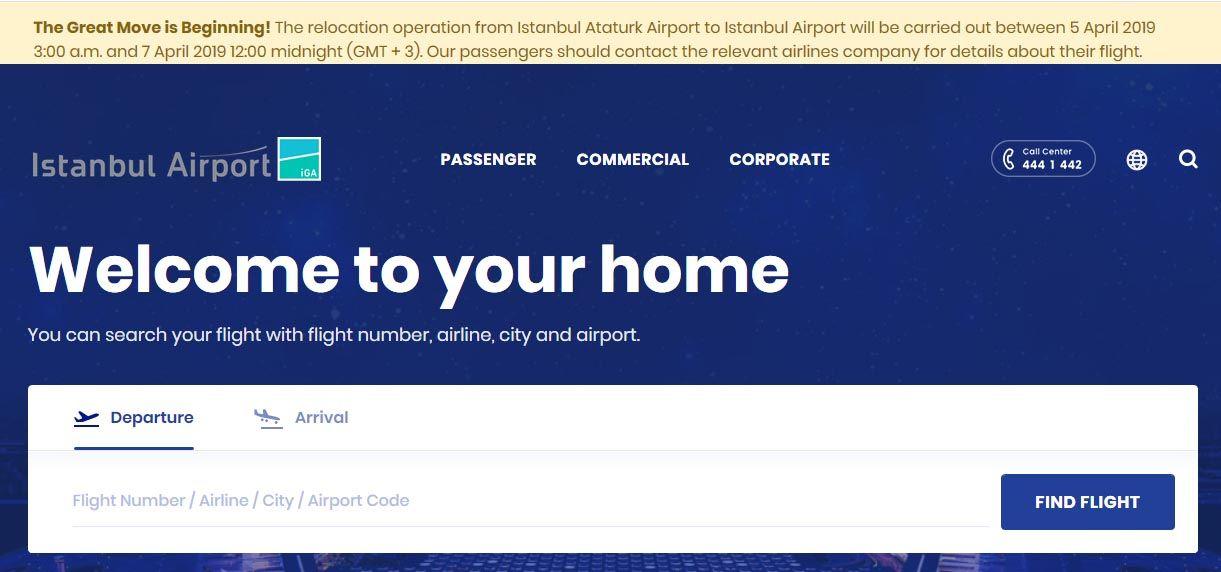 The process of moving Ataturk Airport will be as follows:
all passenger flights from Ataturk Airport will be transferred to the New Istanbul Airport from April 5 till April 7, 2019,
Ataturk Airport will be closed on April 7, 2019
IATA codes of two airports of Istanbul change:

The new Istanbul Airport will be assigned the IATA code: IST
Ataturk Airport will receive the IATA code: ISL.

A number of news articles state that the New Istanbul Airport will be renamed Ataturk Airport (it's scary to imagine what confusion this may cause).
How to understand exactly which airport of Istanbul your plane arrives
Flights to Istanbul Airport Sabiha Golchen will, apparently, not be affected by the April event. To find out if your flight is flying to Istanbul's Sabiha Gokcen Airport, check your flight ticket. It should state "Sabiha Gokcen Airport (SAW)" in Istanbul.

If you are flying to Istanbul to Ataturk Airport in early April 2019, be sure to contact your airline and verify your flight details.
If you are flying to Istanbul to Ataturk Airport (IST) or from it after April 7, 2019, then you will have a chance to assess the size and level of service at the New Istanbul Airport, since your travel services will be handled 100% at the New Istanbul Airport.

What threatens travelers with airport relocation
Such grandiose events rarely take place without failures and problems.
You should prepare yourself for flight delays and lost baggage, long queues and prohibitively high prices for taxis (it is better to pre-order a transfer), and overloaded buses that run between the airport and the city.
Those who had planned on a short excursion to Istanbul's city center of Istanbul during a 3-5-hour layover should forget about it. It will take at least an hour to get from Istanbul's new airport to the historic center of the city, plus the risk of getting stuck in traffic jams. But it might make sense to go to the city if you have at least 6-7 hours left.
Find out more in the article How to get from Istanbul New Airport to the city center, to the metro and the hotel.
Do you like this article? Share it or save for later:
---
Book hotels in Istanbul for the best rate:
---