The best time to travel to Istanbul is spring and autumn. Specifically, from April to May and from September to early October are the very best times. Istanbul has nice weather during these months, as well as lots of festivals, drawing tourists from all over the world. In this article, you will discover what the weather is like in Istanbul on a month-by-month basis, how hot it is in Istanbul in the summer, how cold and rainy it is in the winter, and what you can do in Istanbul if you have bad luck with the weather.
Monthly weather and climate in Istanbul
The rainiest months in Istanbul are November, December and January.
The hottest months are July and August.
The best months to travel to Istanbul (in terms of the weather) are April, May, September and early October.
I suggest to start by looking at the graph, below, which illustrates the average temperature and the amount of precipitation in Istanbul on a month-by-month basis. These are the figures and graphs which are most often cited in articles and guidebooks about Istanbul.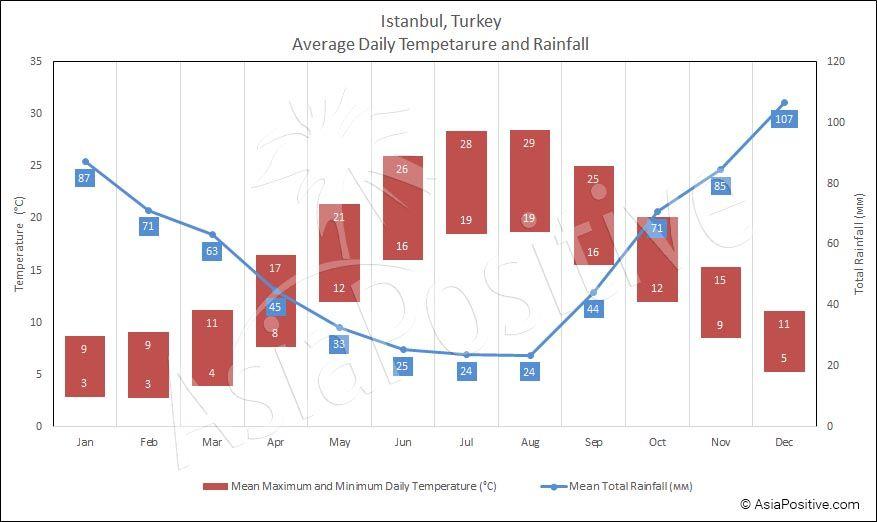 Looking at the climate of Istanbul, based just on these figures, the picture is far from complete. 28 oC in the summer doesn't look very hot. 9 oC in the winter is not cold at all.
But these numbers are only the average daily temperature.
To give you the opportunity to see how hot it can be in Istanbul in the summer, or how cold it can be in the winter, I created another chart and table for this article:

What do you say about + 41 oC in July, minus 16 oC in February or 18 rainy days in January?
Of course, there is no guarantee that you will experience these extreme temperatures for yourself. But if you are arriving in Istanbul in the summer, you should be prepared for extreme heat. During the summer, even the locals try to escape from the concrete jungle of the city, on outings to the sea. If you're traveling in Istanbul in the winter, grab an umbrella, as well as warm and wind-proof clothing.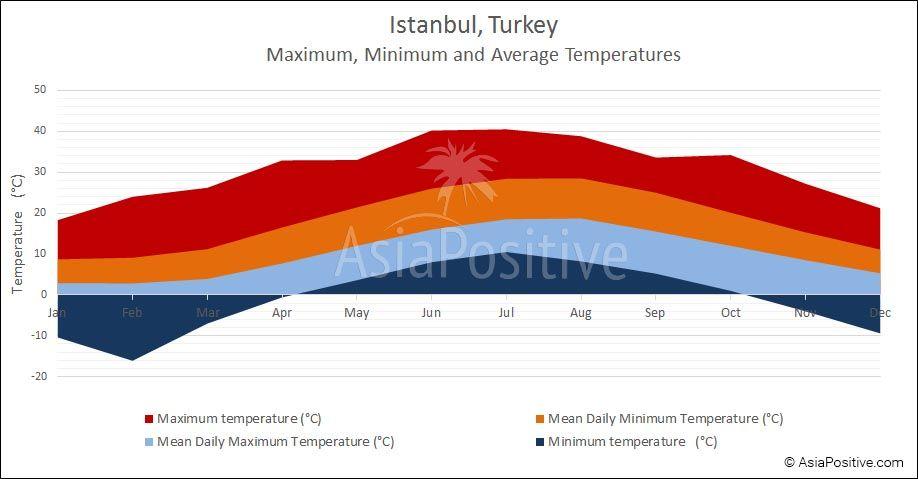 What to do and what to see in Istanbul, if you have bad luck with the weather
In Istanbul, you can easily avoid bad weather and still have a fun time. Here are a few options for you:
Useful links to save your time and money:
Do you like this article? Share it or save for later:
---
Book a hotel in Istanbul for the best rate:
---