The best times to visit Istanbul are during the spring and autumn seasons. The best time to go to Istanbul is April, May, September and October. Istanbul has pleasant weather during these months, as well as lots of festivals, which draw tourists from all over the world. In this article, you will discover what the weather is like in Istanbul on a month-by-month basis, how hot it can get in Istanbul during the summer, how cold and rainy it can be in the winter, and what to do in Istanbul if you encounter bad weather.
Istanbul climate and weather by month
Istanbul experiences the highest amount of rainfall in November, December, and January, while July and August are the hottest months of the year.
Istanbul is especially beautiful in April during the Tulip Festival.
For the best weather conditions, it's recommended to visit Istanbul in April, May, September, or early October.
Find cheap flights Taxi from / to airports Tours in Istanbul
Most tourists try to come to Istanbul during the best time of the year in terms of weather. As a result, large numbers of tourists in April and May lead to higher airfare and and a limited choice of hotels, as well as long queues at main attraction sites: Topkapi Palace, Hagia Sophia and the Blue Mosque.
Here are some tips to minimize these inconveniences:
To get an idea of the city's climate, take a look at the graph below which shows the average temperature and precipitation levels by month.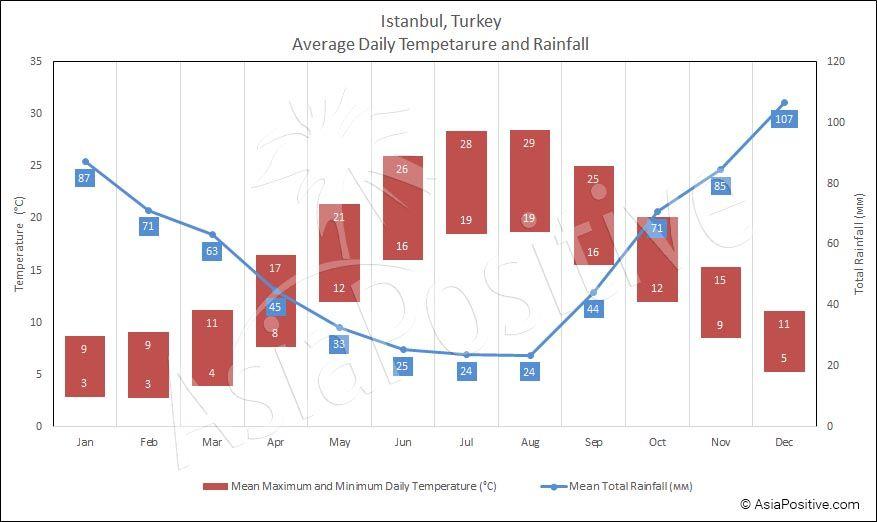 However, relying on these figures alone can give an incomplete picture of Istanbul's climate. For instance,
the average temperature of 28°C in summer might not seem that hot,
while 9°C in winter doesn't appear to be too cold.
To give you a better understanding of the weather, I have also created a chart and table with detailed information on the highest and lowest temperatures, as well as the amount of rainy days.

What are your thoughts on the following temperatures in Istanbul:
41°C in July,
-16°C in February,
18 rainy days in January
While it's not guaranteed that you'll encounter these extreme temperatures, it's good to be aware of them.
If you visit Istanbul during the summer, be prepared for the sweltering heat. Even the locals often head out of the city to the seaside to escape summer heat.
If you're travelling in Istanbul in the winter, grab an umbrella, as well as warm and wind-proof clothing.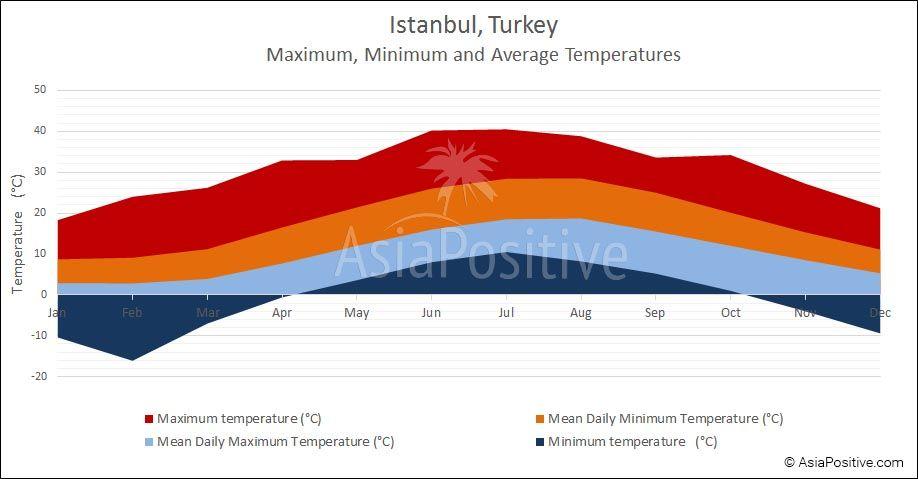 When tulips bloom in Istanbul
The most beautiful time to visit Istanbul is when the tulips are in bloom during the Istanbul Tulip Festival. The festival takes place in April, but the exact dates can vary because of weather. It's best to plan your visit for the second or third week of April to experience the Tulip Festival in all its glory. During this time, the parks and streets of Istanbul are adorned with millions of colourful tulips, making for a truly spectacular sight.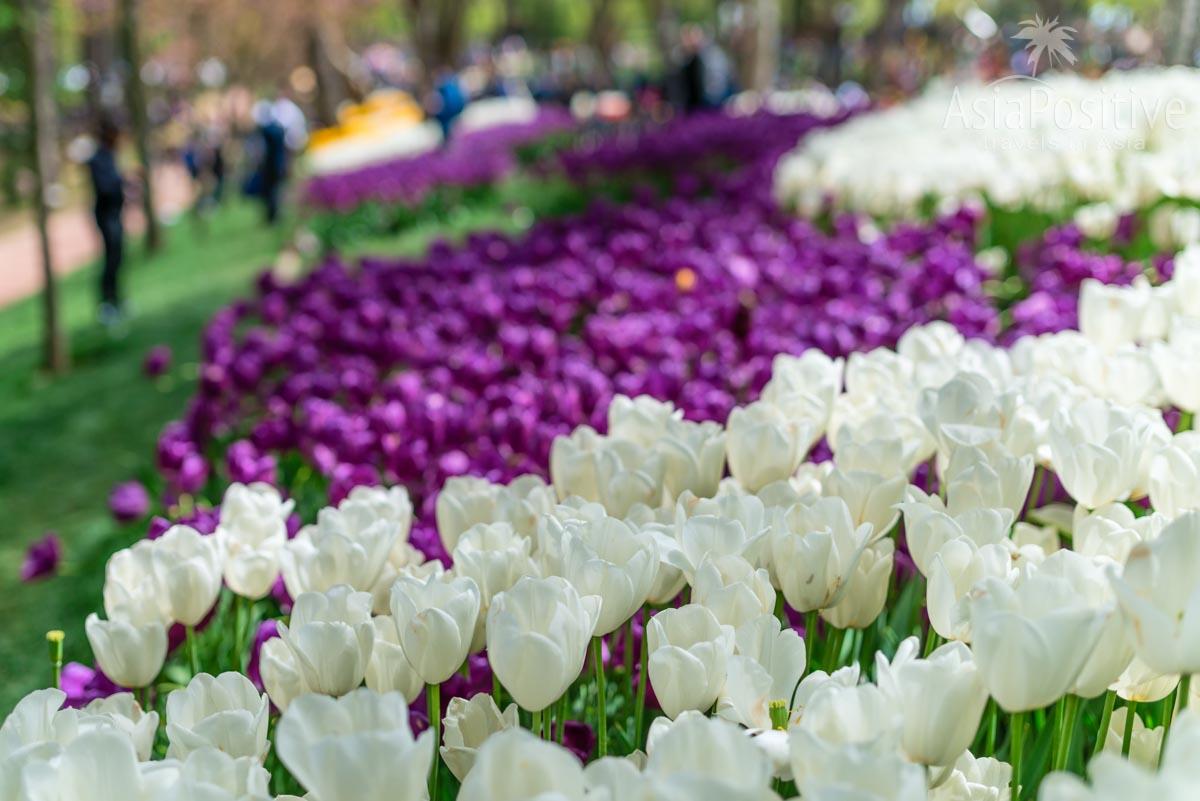 You won't go wrong if you come to Istanbul for tulips on April 20-30. Just keep in mind that April 23 is a public holiday in Turkey and many locals come to Istanbul for the weekend to admire the flourishing city.
More details you can find in the article Tulip Festival in Istanbul - when and where it takes place, best parks, festival dates.
During the Tulip Festival, there are no free rooms in Istanbul hotels, there are terrible traffic jams on the roads, and there are huge queues almost everywhere. Frankly, it's worth it becouse Istanbul at the end of April is beautiful.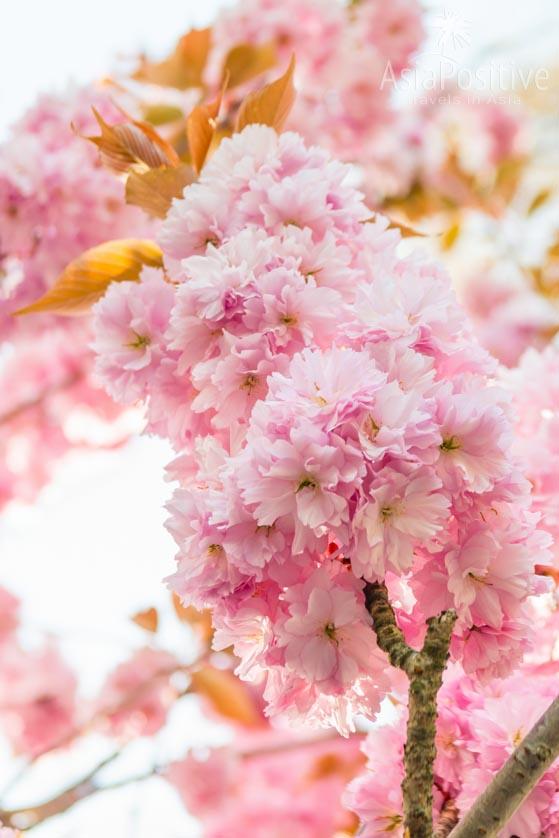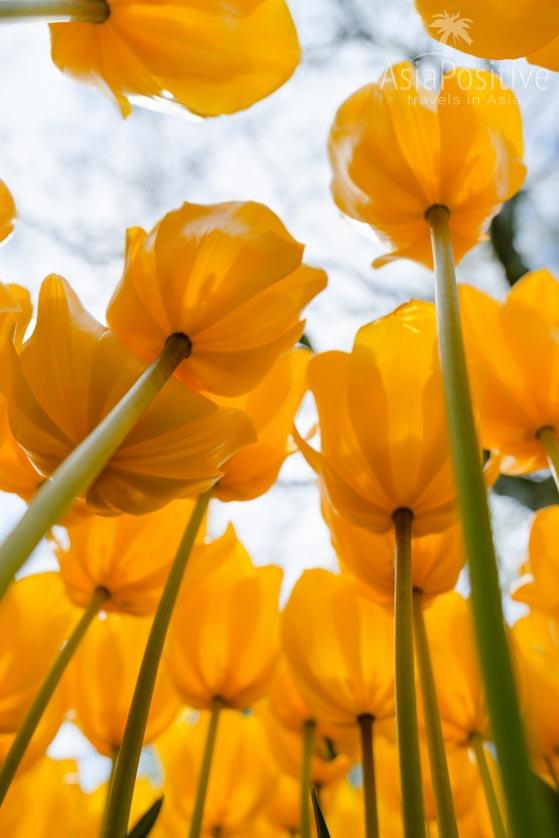 How to skip the lines at Istanbul's top attractions
Buy entrance tickets or guided tours in advance:
What to do in Istanbul if you encounter bad weather
If you experience bad weather during your visit to Istanbul, don't worry! There are plenty of indoor activities and experiences to keep you entertained.
Here are a few options:
Have you already decided how you will get from Istanbul airport to your hotel in the city? This article may help you How to Get from the New Airport to Istanbul.