Buses from Istanbul's New Airport are undoubtedly the cheapest way to get from the airport to Istanbul or vice versa - from Istanbul to New Airport. In this article, I will show what kind of busses you can use, how much they cost and how to pay for it, where you can find the bus stops at the airport, how long is a trip from the airport to Istanbul.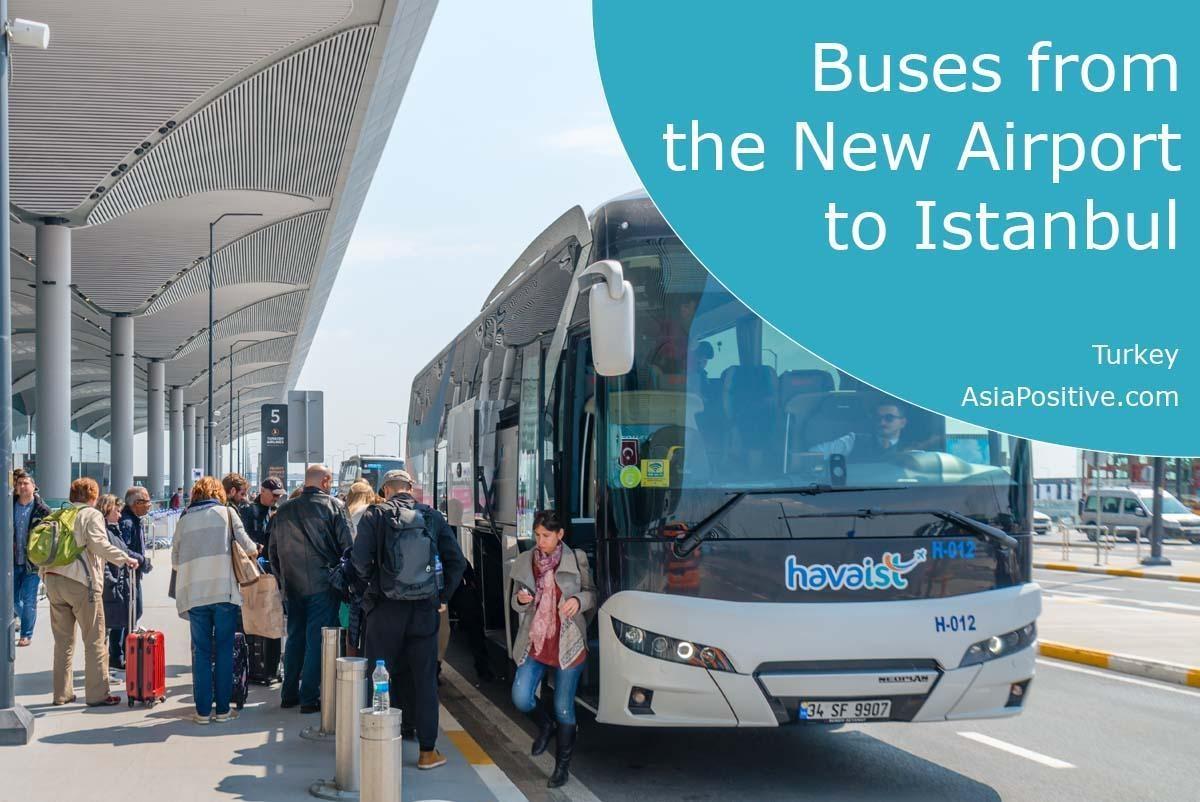 Contents
Types of buses from New Airport to Istanbul
Two types of buses run from New Airport to Istanbul and back - comfortable Havaist expresses and state-owned company IETT busses.
The break to the next ride is from 15 minutes to 1.5 hours. The interval depends on the route and time of day. In the daytime, buses run more often, at night rarer.
1 | Havaist express busses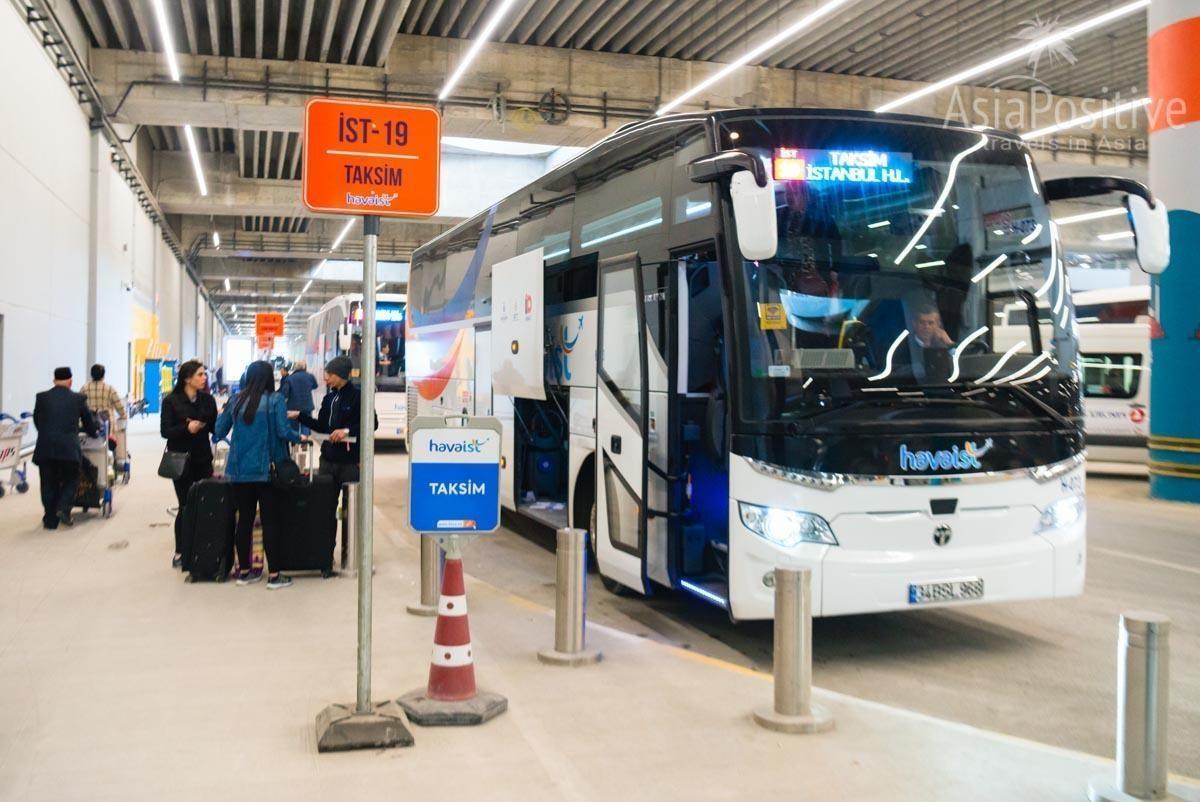 All Havaist routes from/to Istanbul New Airport begin with three letters IST. For example, IST-20 is a Havaist route from the airport to Sultanahmet.
The bus fare depends on the distance - from 16 to 30 Turkish liras.
A bus has a limit number of seats. Standing is prohibited. Wishing to go people have to wait for the next bus if all the bus seats are occupied.
To use free Wi-Fi and connect to the Internet, you need to register by your phone number.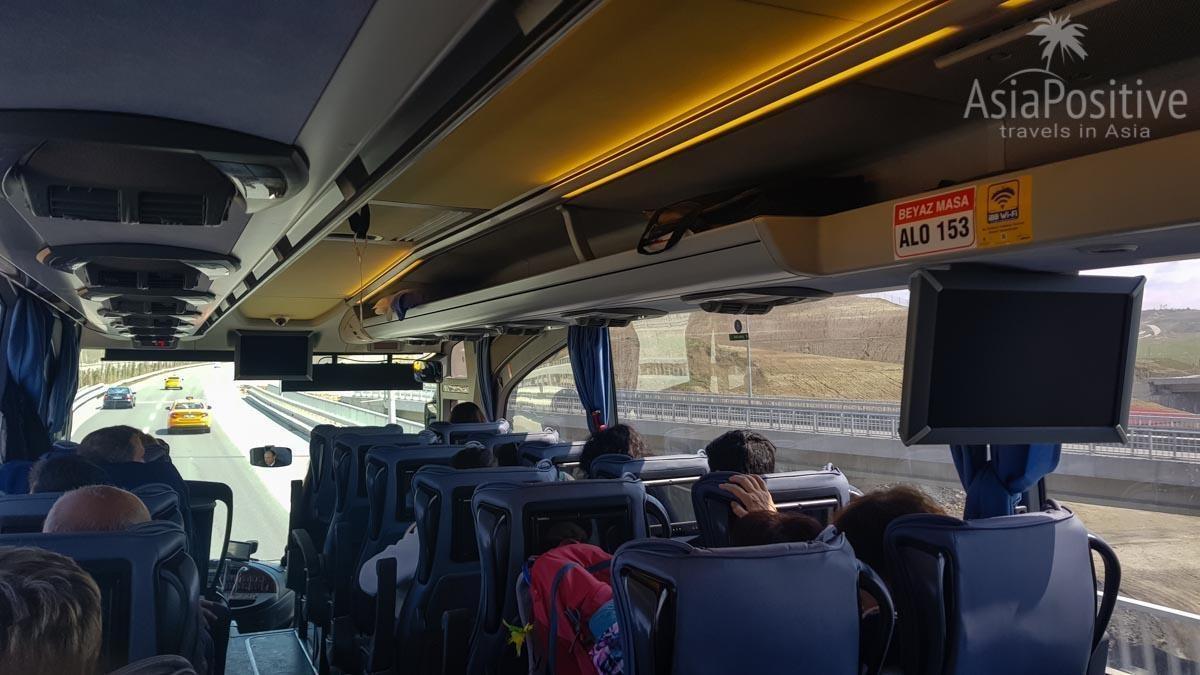 Baggage travels in a luggage section. When boarding a bus, a luggage tag sticks to each suitcase, the luggage owner receives a tear-off part of the tag. At the end of the trip, an Havaist employee issues baggage to passengers, comparing the number on the tag with a tear-off part.
At all promotional and informational materials, several stops are listed for each Havaist route. Four times I used IST-20 bus (from the airport - Sultanahmet Square) and the driver never stopped at listed Eminonu stop. Out of curiosity, I even found this stop. It exists, but buses stop there only on demand.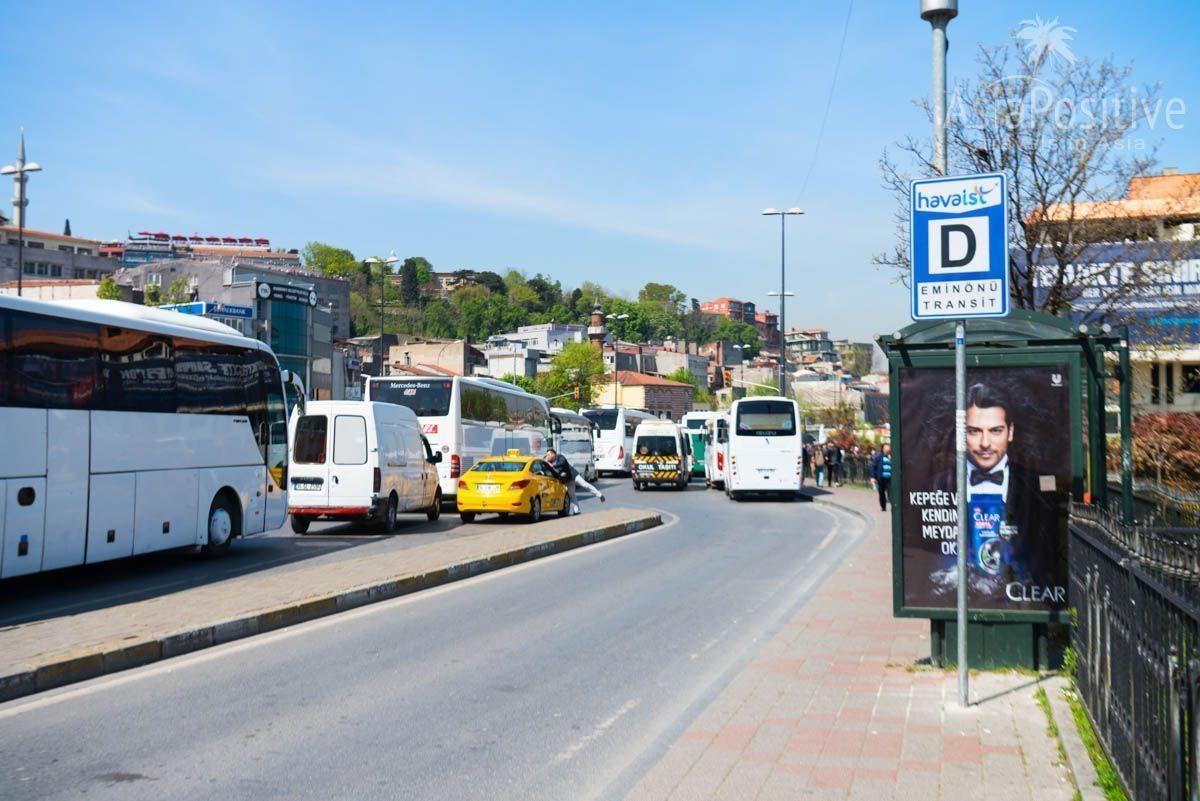 2 | Buses of the state company IETT
IETT bus routes to/from Istanbul's New Airport start with the letter H. For example H-2.
The fare on IETT buses is 5.20 Turkish liras.
The IETT bus has about a dozen seats. The rest of the space is for standing passengers and luggage.
IETT buses stop at all stops along the route, which can be more than 20.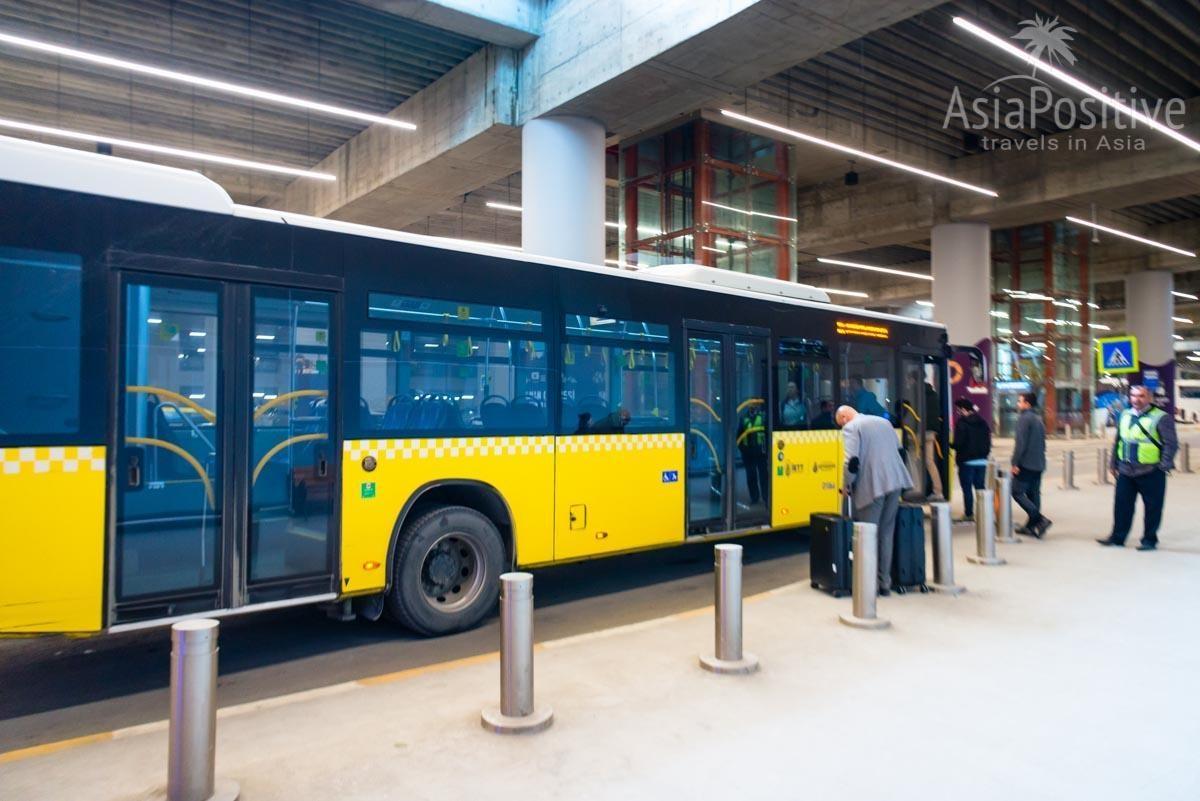 How to pay for a bus from the airport
To pay for buses, you need an Istanbulkart. This is a special paying card for Istanbul public transport.
An Istanbulkart card can be bought in a vending machine at bus stops. Machines accept only cash Turkish lira.
You can change any currency to Turkish lira or withdraw cash from the card at the ATM in the arrival hall. Just a warning, the exchange rate at the airport is 10-15% worse than in Istanbul city center. ATMs you can find in the far corners of the hall, under escalators.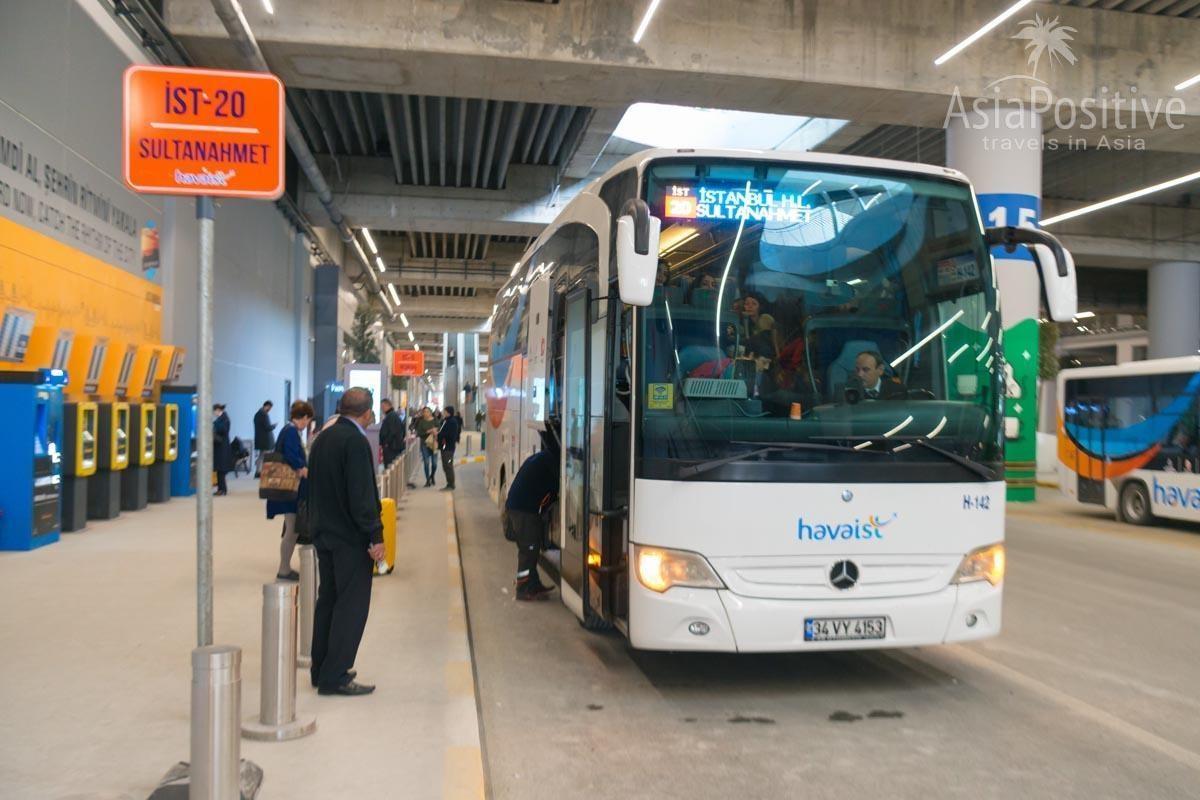 How to find a bus stop at the airport
The bus stops are on the lowest floor of the New Airport. From the arrivals area, you can get there by elevator or escalator.
Follow the signs Bus / Shuttle. They will lead to an elevator that takes you to the lower floor.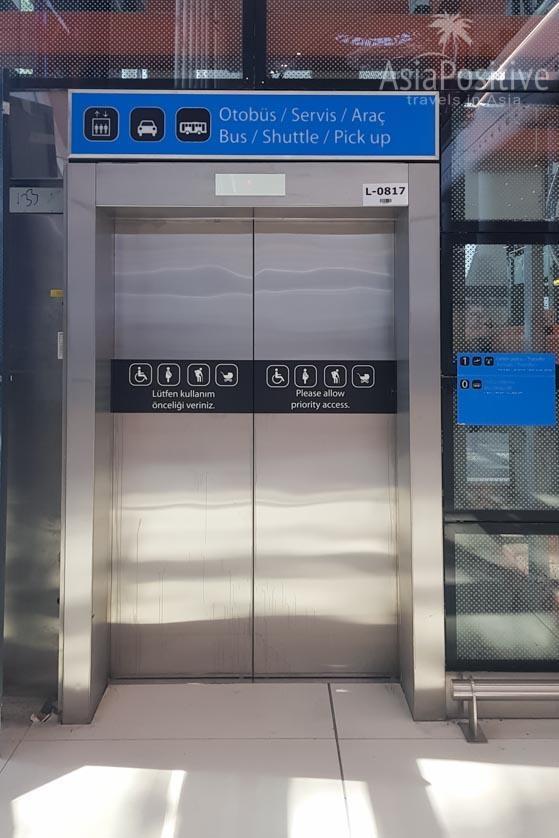 What you need to know about buses from Istanbul's New Airport
Drivers speak only Turkish. They do not understand a single word if you speak to them in English or any language other than Turkish.
Buses can get stuck in a traffic jam and your trip instead of the expected 60 minutes will last 120 minutes or more. Remember there is no toilet on the bus.
Get out of the Havaist bus wherever you like is impossible. You will get your bags from the luggage section only at the bus stop.
There can be very hot and stuffy on a bus. It looks like drivers save gas for air conditioning. The last time I arrived at the airport fully wet and close to heatstroke.
My advice to those who travel with children - order a transfer, do not torment your child with a bus ride.
Individual transfer Shared transfer Things to do in Istanbul
All bus routes from New Airport to Istanbul and back
At the time of this writing, 19 routes are running from Istanbul New Airport: 8 of them are IETT routes and 11 are Havaist express routes.
At last months, the IST-1/S and IST-4/G routes were canceled, H-8 to Hacıosman/Sarıyer and H-9 to Cevizlibağ were added.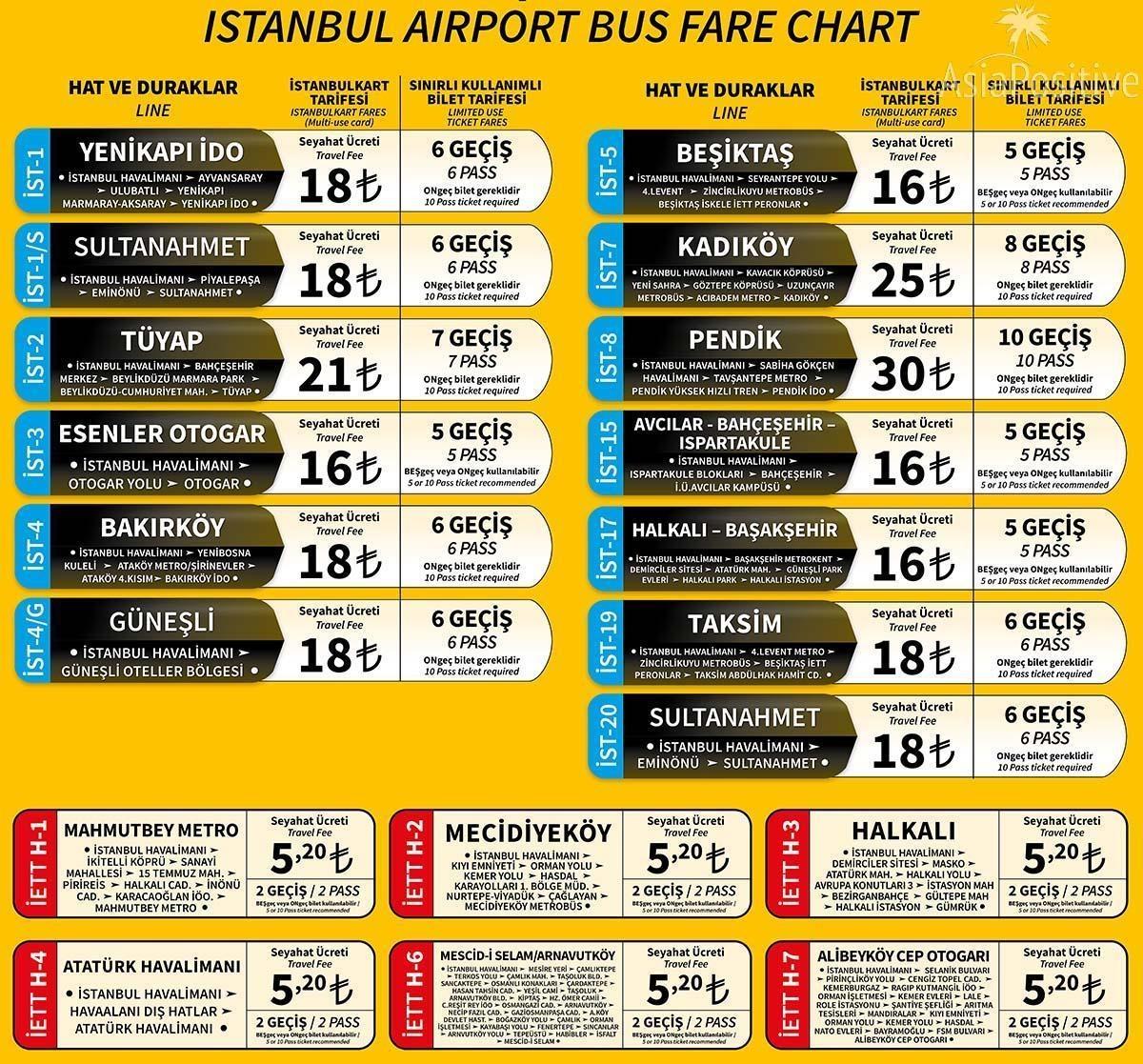 The most useful airport bus routes for tourists
On the two bus routes, you can get to the most popular tourist areas of Istanbul - Sultanahmet Square and Taksim.
Two more routes are useful because these buses allow you to get from the airport to the metro in 1 hour - the fastest and most reliable transport in Istanbul.
#
To / From
Fare
How often
Travel time

IST-20

Sultanahmet Square

18 TL

30 - 45

minutes

100 min
IST-19

Taxim Square

18 TL

15 - 30

minutes

80 min
H-2

metro Şişli / Mecidiyekoy on green line

5,2 TL

15 - 60

minutes

60 min
IST-3
bus station and metro Otogar on red line
16 TL

30 - 60

minutes

60 min
Buses from New Istanbul Airport to metro stations and ferries
Bus H-2 (60 minutes on the road, fare 5,6 TL) runs between the New Airport and the metro station Şişli (green line metro M2) and the Metrobus Mecidiyeköy stop.
Hotels in Şişli area (a convenient and inexpensive area of ​​Istanbul) >>
Bus IST-1 (18 TL; 1.5 hours) travels to the Yenikapı ferry pier, where you can catch a ferry to the Asian coast at Kadıköy, or if you travel light without heavy suitcases, you can walk in 20 minutes to Yenikapı green metro lines M2, red metro lines M1 and Marmaray lines.
Hotels in the Kadıköy area (non-tourist area in ​​Istanbul) >>
Bus IST-19 (18 TL; 1.5 hours) stops near the metro station 4.Levent (green line of metro M2).
The route of the bus IST-3 (16 TL; 1.5 hours) - from the New Airport of Istanbul to the bus station and Otogar metro (red line M1).
The Kozyatağı metro station (the pink metro line M4), which is located in the Asian part of Istanbul, can be reached by bus IST-7 (25 TL; 1 hour and 40 minutes).
How to find out the actual bus schedule
Buses from and to the airport usually keep their schedule. But some times they can be late for 40 minutes or even 1.5 hours due to traffic jams.
The actual IETT and Havaist bus timetables can be found on the official IETT website https://www.iett.istanbul/en.
Book hotels at the best prices
The bus can be canceled, the bus stop can be moved
The bus may get stuck in traffic and be very late. Remember about it when traveling from Istanbul city center to the airport.
There were 23 bus routes by the end of April 2019. Today 19 bus routes left. During the last two months two routes were added and two canceled. What will happen tomorrow or in a month is difficult to say.
I felt by myself how nervous airport bus canceling is. I have to run with heavy suitcases from Sultanahmet Square to the Eminonu, where, according to the police words, I can find a bus stop. But all roads were blocked there, and there was not a single bus or even a taxi. I again had to run to the metro and try to catch the IST-18 bus to the airport. By the way, this bus route doesn't exist any more.
Be prepared that any bus route can be canceled and no-one knows anything about this. Transfer from the hotel to the airport is much more reliable, convenient and faster.